Copyright © Priors Dean Vineyard. All rights reserved.



LOCAL DELIVERY FREE (Minimum 6 bottles)
For trade prices please contact the vineyard
2018 Summer Hills
Our latest still vintage is Summer Hills Off-Dry White Wine 2018, the product of an exceptional year for grape growing.
There is a freshness to the taste similar to a Muscadet, though the wine is blended in the modern
English style, resulting in a crisp and fruity palate reminiscent of gooseberries and apples.
Serve chilled.
£9.50 PER BOTTLE. £112 PER CASE (12 bottles)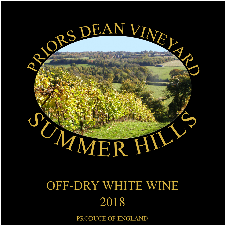 2013 Seyval Blanc Brut
Our first sparkling wine. Crisp and fruity with notes of elderflower and English apples.
It is equally suitable as an aperitif, with canapés or as accompaniment to a main meal.
Serve well chilled.
£25.00 PER BOTTLE. £276 PER CASE (12 bottles)
SPECIAL OFFER!: 3 bottle box £69